Back to News
Santec announces a new low-priced tunable laser source, TSL-350, a basic model designed with lower price, higher power and all the basic functions.
Product Name: High power basic model Tunable Laser
Product Model: TSL-350
In 1989, santec introduced the world's first external cavity single mode semiconductor tunable laser source. Santec has brought all its experience and knowledge gained over the past 30 years for development of a low-priced basic version of a tunable laser that has achieved high output power.
This new product, TSL-350, has achieved a higher output than conventional models by optimizing the laser resonator. With models available in the 1260-1620nm wavelength ranges, the TSL-350 is a low-priced competitive model of our best-selling model TSL-550, and has basic performance such as mode-hop free/ single mode oscillation, continuous wavelength sweep function, analog control function and variable power function by feedback control. It is an ideal choice for a wide range of applications such as basic optical component evaluation for optical communication and R&D.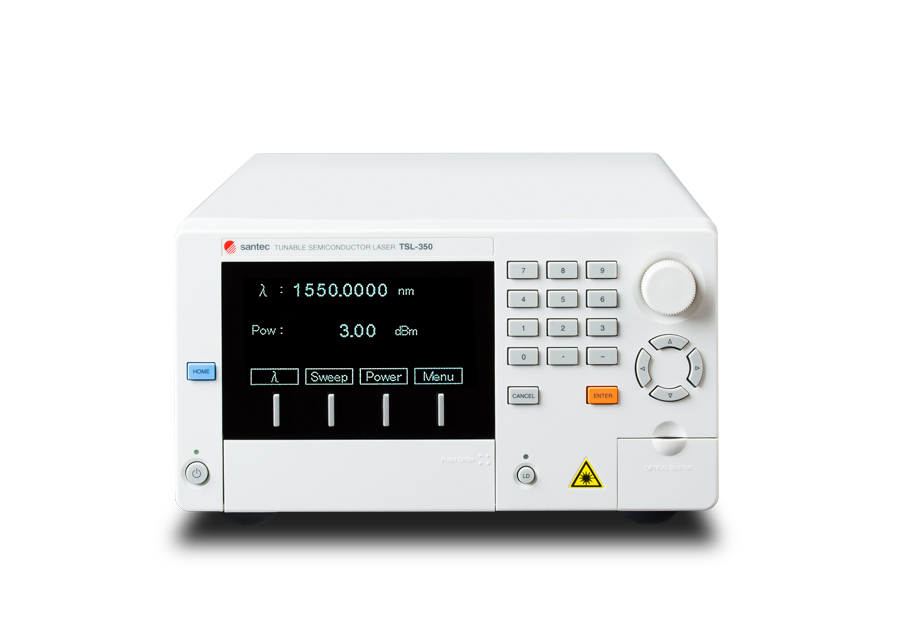 New Product Highlights
1. High output power of +16dBm (40mW) or more peak power with continuous (CW) oscillation
2. Wide wavelength tuning ranges within 1260-1620nm 
3. Worldwide after-sales service
・Repair and calibration service are supported at the Shanghai Support Center in China in addition to the head office (Japan).
Release date: 10/1/2019
Selling Price (at the time of this press release, taxes extra): $20,000~
We are proud to announce that we will be showing the new TSL-350 at this year's CIOE 2019 (China International Optoelectronic Exposition), Booth 1165/1166, Shenzhen Convention & Exhibition Center, September 4-7.
About Santec:
Santec Corporation was established in 1979. It is headquartered in Komaki, Japan and has subsidiaries in America (Santec U.S.A. Corporation), London (Santec Europe Limited) and China (Santec (Shanghai) Co., Ltd). It is listed on the JASDAQ Market – a section of the Tokyo Stock Exchange. The company employs 190 staff and serves customers in more than 30 countries since the release of its first product in 1984; the world's first optical fiber test machine. Now santec's product line includes a broad range of optical components and tunable laser light sources for the optical fiber industry, together with a range of fiber optic test and measurement instruments.
Santec. The Photonics Pioneer.
Click Here for More Details
Related Articles