Back to News
Santec Releases New Tunable Laser

Product Name: High Performance Tunable Laser
Product Model: TSL-570
Santec Corporation, a leading manufacturer of advanced optical components, tunable lasers, optical test equipment and OCT systems, today announced the release of its TSL-570 tunable laser which has both fast scan and high stability. The all-new TSL-570 capitalizes on Santec's 33 years' experience in tunable laser manufacture. It uses a new optical cavity design with precise speed control up to 200 nm/s and sub-picometer resolution and accuracy.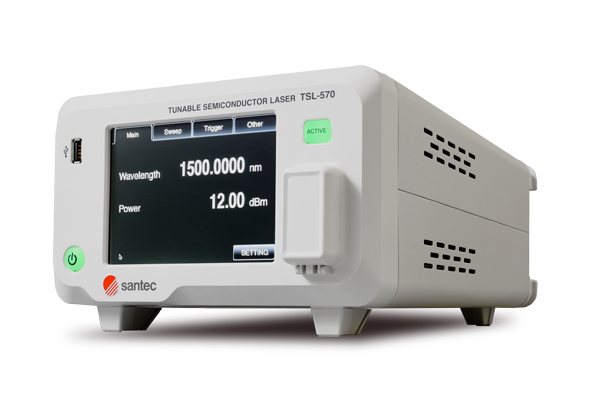 Tunable lasers are used extensively in photonics; for optical component characterization, photonic integrated circuit testing, quantum photonics, spectroscopy and sensors. Santec's TSL-570 is a high specification, full feature instrument suitable for all applications. It has a simple to use touch panel display as well as Ethernet, GPIB and USB interfaces for remote control. A Wake-on-LAN (WoL) feature provides convenience for remote installations. Models are available to cover from 1250 to 1680 nm with output powers up to 20 mW.
Santec's new sealed laser cavity is mode-hop-free and provides a stable output at every wavelength. It has 0.1 pm resolution, sub-pm accuracy and a market leading, 90 dB/0.1 nm, ultra-low level of spontaneous source emission. The TSL-570 integrates seamlessly with Santec's optical power meters, optical switches and polarization controllers creating benchmark, turn-key solutions for wavelength dependent loss (WDL) and polarization dependent loss (PDL) measurements.
Release date: April 1, 2021

Notes to Editor:
Santec Corporation was established in 1979. It is headquartered in Komaki, Aichi, Japan and has subsidiaries in America (Santec U.S.A. Corporation), United Kingdom (Santec Europe Ltd.) and China (Santec (Shanghai) Co., Ltd). Its shares are publicly listed on the JASDAQ section of the Tokyo Stock Exchange. Santec was the manufacturer of the first optical fiber characterization system in 1984 and also the first manufacturer of a commercially available tunable laser in 1987. Today, Santec has over 250 employees with manufacturing facilities in both Japan and Vietnam.
Click Here for More Details
Related Articles