Back to News
SANTEC's latest Multichannel Optical Power Meter (model: MPM-210) delivers upgrades in measurement speed and dynamic range.
Product Name: Multichannel Optical Power Meter
Product Model: MPM-210
Santec, a leading design and manufacturer of tunable lasers, optical instruments, OCT products, and fiber-optic components, has developed the new Multi-Port Power Meter (MPM-210). The MPM-210 offers greatly improved performance and function when compared to santec's current power meter options. This enhanced functionality allows the MPM-210 to be used in many applications, ranging from production environments to R&D. The new MPM-210 multi-port optical power meter is also command compatible with the previous MPM-200 model, so switching to the new MPM-210 is as simple as swapping out your devices.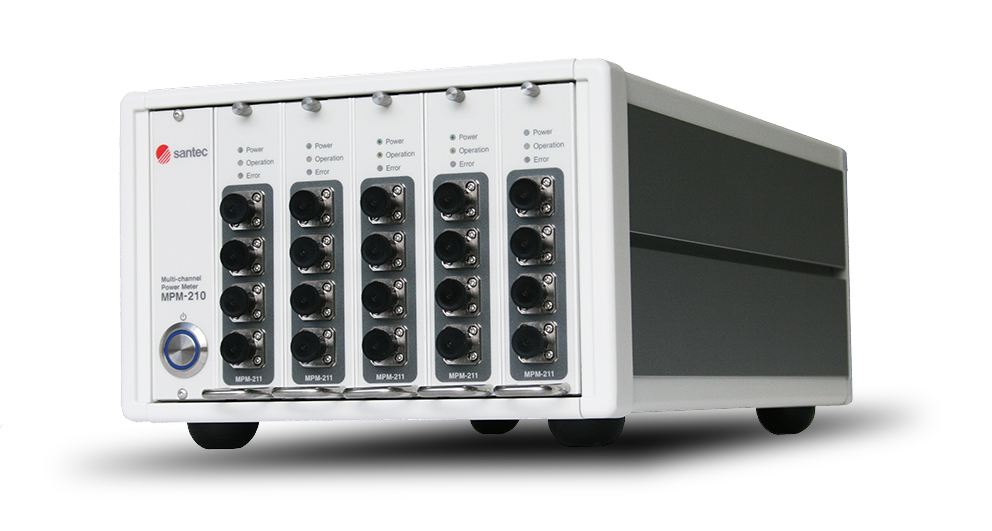 New Product Highlights
1. High speed measurement
・ 15 times faster data transfer than the previous MPM-200.
Combining the MPM-210 and a santec TSL-Series laser equipped with a power monitor output enables faster measurement.
・ 2 memory buffers per port , Up to 1 million logging sampling points per port
Reading the current measurement data and starting a new measurement and can be done simultaneously, shortening the time for repeated measurements.
・ Fast measurement (100kHz) with high resolution
2. High dynamic range (logging mode)
・ 1.5 times higher measurement dynamic range
The measurement dynamic range with one sweep is typically 50 dB or more.
The input power range has been expanded to -80 to + 10 dBm, and the measurement range has also been extended.
3. A variety of mountable modules depending on the application
・ MPM-211 (Power meter module 4 ports)
・ MPM-212 (Power meter module 2 ports and 2 ports analog output)
The analog output function outputs a 0 to 2V analog voltage signal proportional to the optical power. This feature is ideal for fast measurement without using communication.
・ MPM-213 (Current meter module 4 ports)
This module is suitable for measuring the performance of fiber optics components using transceiver- like photodiodes (ROSA/Coherent receiver, etc) and an optical channel monitor.
The MPM-210 can simultaneously measure up to 20 ports (4 ports per MPM-211 module) very fast with high resolution.
Release date: 1/1/2018
We are proud to announce that we will be showing the new MPM-210 at this year's OFC2018 (The Optical Networking and Communication Conference & Exhibition), Booth 2738, San Diego Convention Center, March 13-15.
About Santec:
Santec Corporation was established in 1979. It is headquartered in Komaki, Japan and has subsidiaries in America (Santec U.S.A. Corporation), London (Santec Europe Limited) and China (Santec (Shanghai) Co., Ltd). It is listed on the JASDAQ Market – a section of the Tokyo Stock Exchange. The company employs 190 staff and serves customers in more than 30 countries since the release of its first product in 1984; the world's first optical fiber test machine. Now santec's product line includes a broad range of optical components and tunable laser light sources for the optical fiber industry, together with a range of fiber optic test and measurement instruments.
Santec. The Photonics Pioneer.
Related Articles