Back to News
Santec releases a new, wide dynamic range power meter module (model: MPM-215) with a single scan dynamic range of >75 dB *
Product Name: Optical Power Meter Module
Product Model: MPM-215
Santec, a leading design and manufacturer of tunable lasers, optical instruments, OCT products, and fiber-optic components, has developed a new power meter module, MPM-215. The MPM-215 is an optical power meter module specialized for high-speed measurement of optical components with a wider, single scan dynamic range than the conventional product (MPM-211). The greatly improved performance of the measurement dynamic range makes it an ideal tool for various applications such as optical component production environments, R&D, and basic research. The new module can be used in the current mainframe, MPM-210.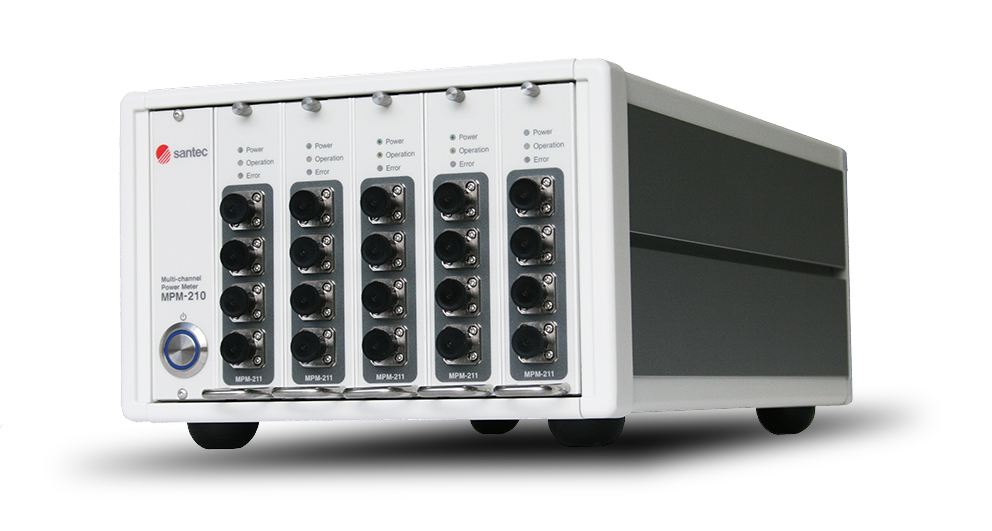 * No switching the range


New Product Highlights
High dynamic range (logging mode)
5 times higher measurement dynamic range
A dynamic range of 75 dB can be measured without switching the range.
Input power range: -70 to + 5 dBm


High speed measurement
The Swept Test System configured in combination with Santec's TSL series tunable lasers can measure the dynamic range of 75 dB or more with single sweep. Therefore, when evaluating optical components of 50 dB or more, which required twice sweeps with the conventional product, it is possible to measure in half the measurement time of the conventional product.

Release date: 11/1/2020

About Santec:
Santec Corporation was established in 1979. It is headquartered in Komaki, Aichi, Japan and has subsidiaries in North America (Santec U.S.A. Corporation in NJ), U.K. (SANTEC Europe Ltd. in London) and China (Santec (Shanghai) Co., Ltd.in Shanghai). Santec is listed on the JASDAQ Market (6777) – a section of the Tokyo Stock Exchange. The company employs 254 staff members and serves a global customer base; including the world's major telecommunications companies, transmission/sub system manufacturers, internationally recognized research centers and universities. Santec's product lines include a broad range of advanced optical components, tunable lasers, optical test/measurement and OCT systems for telecommunication, life science, sensing and industry applications.
Click Here for More Details
Related Articles